Neelum Valley - A Sightseeing to The Nature
Neelum Valley named after the river Neelum leaves regular tourist spots such as Swat and Chitral far behind.
It is the forested region of Azad Jammu and Kashmir.
This place dominates because it is one of the most incredible Alpine valleys of Pakistan.
Neelum valley marks its beginning from Muzaffarabad and goes along the river Neelum. It is a 144 km long bow-shaped narrow region.
Due to the Indo-Pak ceasefire, this place was not open for tourism.
But fortunately, now tourism is picking up and numerous tour packages are offered to visit this lovely and delightful valley.
People have begun to reveal the splendors of the region.
Considering the fact, Dream Vista Travels & Tourism is arranging Neelum Valley Tour of 5 Days & 4 Nights tour  to get benefited from its pleasure and calmness.
Why miss the fun of Trekking in Neelum Valley
Neelam Valley offers quite a bit of trekking and hiking…
The journey of trekking begins from trekking down the Kel, cross the river on a bridge, and finally climb to the mountain of Arang Kel, onto which the Village of Arang Kel is located.
This village is over the altitude of 8300 feet, above sea level.
Don't want to trek? No worries
To facilitate the tourists, a chairlift service operates from Kel, which will take you three quarters up to ArangKel.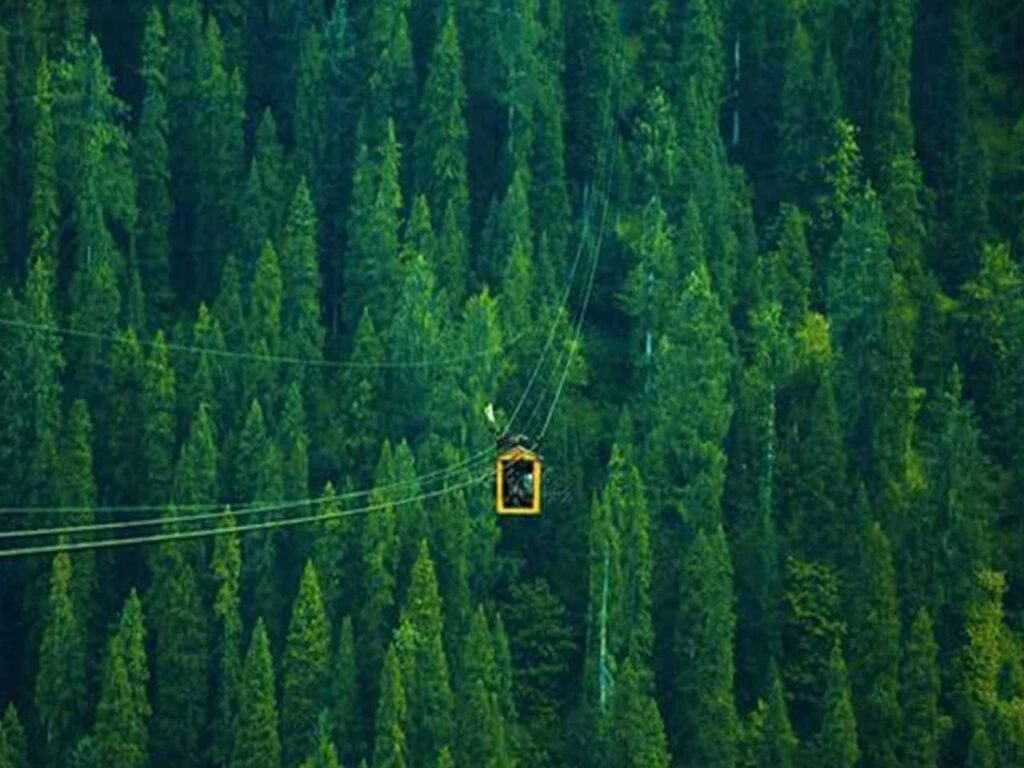 The Chairlift is a unique experience of having one's legs dangling in the air.
Kind of similar to enjoying waves striking just at the ankles at the beach. However, here you experience light breezes instead.
It is a live bird-eye view seeing the tips of the tall trees and sitting alongside your friend or loved one as you soar across the sky like Aladdin on your not so magical carpet…
But,
Of pure joy indeed!
Places you just cannot resist to visit in Neelam Valley:
This waterfall is approximately 15 meters tall.
If onewants to witness the heavy flowing water, one should plan on visiting this place between March and June.
It is a valley of pearl with waterfalls. This is a place where tourists plan to stay. The view here is as mesmerizing as in the valley.
It is a border between Azad Kashmir and Indian Occupied Kashmir. Tourists get to watch the Indian side of Kashmir via this place.
Ever wondered how these little spots of beautiful nature would look as a whole?
Upper Neelam is just for you, this is a place where you can see the panoramic view of this piece of nature's art.
Dowarian is a village located on the bank of Neelam Valley. A trail from Dowarian there is a lake called Ratti Gali Lake, and this Dowarian village serves as a base camp for tourists.
The scenic view of this lake is soul-soothing. The tourists suffer all the hardships of trekking and hiking to arrive at this spot. A sight of this lake is worth all trouble.
This place is referred to as a hidden jewel in Neelam Valley. This is the last destination of Neelam.
In Sharda, there is a site that exhibits the ruins of some ancient fort, which seems to be an academy years ago.
This spot is a great addition to ancient aesthetic photography.
When is the best time to visit Neelam Valley?
Neelam valley remains open to tourism 12 months a year. Here every season has its charm.
However, the advisors suggest the best time is between April and October, and the best time for hiking starts from mid of July to September.
Don't forget to carry warm woolen clothes, because the climate is always cold there.
The tracks in Neelam Valley can get very muddy and slippery after rain. So be wise whilst selecting your mode of transport.
However, Buses are available for public transport all across the valley.
Moreover, Public Jeeps are also available from Kundal Shahi and Kel respectively.
There are hotels available for tourist accommodation at almost every tourist attraction place of the valley.
The rest houses are available at Kairan, Sharda, Kutton namely Jagran resort and state continental Hotel, etc,Ratti Gali and Kel. They are pretty reasonable.
Neelam valley is truly a "Paradise on Earth".
This valley comprises breathtaking scenery, thick forest, massive waterfalls, clear water streams, and much more….
This place is definitely worth giving a shot because YOU ONLY LIVE ONCE.