Chitral - The Remote Kingdom of Pakistan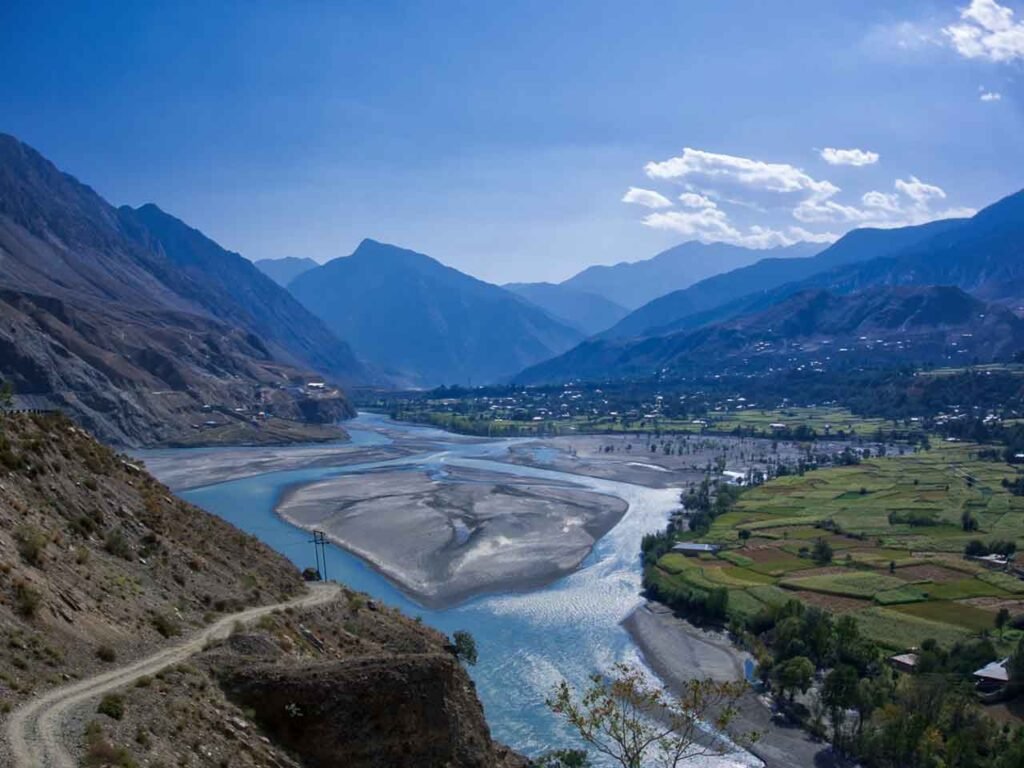 Chitral District was the largest district in Pakistan's Khyber-Pakhtunkhwa province, covering 14,850 km2, until it was divided into Upper Chitral District and Lower Chitral District in 2018. It is Pakistan's most northern district, and is part of the Malakand Division.
Chitral, as the capital of the Chitral District and the gateway to the Kalash Valley, provides an excellent base for exploring the region.
Our Chitral Valley Tour of (05 Days / 04 Nights) is perfect for people who are looking forward to indulging into the strange culture of Kalash Valley whilst enjoying beautiful sights.
Location and Demographics
It is bounded to the east by Gilgit-Baltistan, to the north and west by Afghanistan's Kunar, Badakshan, and Nuristan provinces, and to the south by the Khyber-Pakhtunkhwa districts of Swat and Dir. Chitral is separated from Tajikistan in the north by a narrow stretch of the Wakhan Corridor.
The district's population is estimated to be 414,000 people.  The Kho people are the majority of the population, and they speak the Khowar language, which is also spoken in parts of Yasin, Gilgit, Dir, and Swat. The Kalash tribe, who live in Bumburet and two other remote valleys southwest of Chitral town, also call Chitral home. Chitral is also home to a small number of Nuristanis.
The people of Chitral are also well-known for their exceptionally unique dresses and dances they perform (Specially the tribes of kalash). There are drums, the women dance in a circle and some elderly people sit at the side and sing old songs. Men should be present during those festivals for the women who are not yet married or alone.
The Kalash people have a distinct appearance and culture. They sing, dance, and drink to commemorate everything, including death. They party until they go bankrupt. Marriages are not legally binding, and local alcohol flows freely. Wines are made from local fruits such as apricots and berries.
Chitral and Kalash culture can be described as "inimitable," which generally means difficult  for others to emulate.
There will be plenty of feasts for the eyes if you visit the Kalash Valleys during one of their three annual festivals. Dance, drink, and marvel at the vibrant rituals and costumes on display… But remember to respect the space and customs of the locals. At previous festivals, there have been numerous reports of overcrowding and tourist harassment; please do your best to be a courteous visitor.
In the Kalash Valleys, there are three major festivals:
Chilam Joshi – May
Uchaul – Autumn (typically September)
Choimus – A period of two weeks around the winter solstice.
Chilam Joshi Festival: 13th May - 16th May
Chilam Joshi's Kalash Festival is also known as the Kalash Spring Festival. This four-day festival is celebrated by the Kalash people in all three Kalash valleys of Rumbur, Bumburet, and Birir. The festival reflects their unique cultural richness, social harmony, and message of peace.
Chilam Joshi Kalash festival is a festival where Kalasha men and women can find a spouse.
 Women wear traditional attire with lively colors and hair dresses with patterns of flowers. Men wear traditional Shalwar Kameez with a waistcoat made of wool.
Uchal Festival: 20th - 22nd August
Kalash residents mark the arrival of summer in their own special way. The Kalasha people enjoy the summer festival very much. This festival has grown in popularity in recent years all over the world. People from all over Pakistan, as well as international tourists, flock to the summer festival in large numbers.
 During the festival, Kalasha people honour their God by celebrating the harvest and thanking God for providing them with good food and crops. Kalash people march to a high plateau outside the village of Balangkuru to pray to their God. Following the prayers, a night-long dance and party begins, lasting until the early hours of the morning. Summer celebration
During these festivals, single women are expected to find a husband. Before the festival, food is offered to the ancestral spirits, and a kotik, or light for the ancestors, is lit.
Celibacy is enforced throughout the event to ensure that everyone is of sound mind.
The girls dress in elaborate costumes made of cowry shells, coins, and beads, with intricate hair braiding and headwear. Her uncle presents the girl with a heavy headdress weighing several pounds. Necklaces made from apricot kernels, a traditional gift during Choimus, are also available. Ink is frequently used by women to paint their faces.
There are special dance halls for dancing at festival. They have ornately carved wooden pillars and goat-like figurines.
Chitral Pakistan Popular Destinations
Kalash is divided into three valleys: Bumburet, Rumbur, and Barir. These valleys are located along the Afghanistan border in the southern gorges of Hindukush mountains. These are the Kalasha valleys which are the last non-Muslim tribal community to survive in northern Pakistan.
The Kalasha people live in about 12 villages spread across three mountain valleys dotted with lush green fields, natural forests, meadows, and natural springs.
Gram Chashma is one of Chitral's unspoiled enthralling valleys, famous for its natural hot springs. Gram Chashma's hot sulphurous springs are well-known for their ability to treat skin diseases, gout, rheumatism, and chronic headaches. It is located in the north-west corner of Chitral, about 28 kilometres away, and takes about two hours to reach by jeep.
Golain is a vast valley with high cliffs that extends from the forested slopes to the high barren and craggy peaks above. It is approximately 24 kilometres to the north-east of Chitral. Its main settlements are Golain Payeen, Chashma, Bubaka, Izghor, Birmogh, and Istoor. This area is well-known for its excellent opportunities for trekking, rock climbing, fishing, and wildlife viewing.
Ayun Valley is a stunning chitral valley. It is located 8.5 kilometres from Chitral. There are no restrictions on the types of vehicles that can travel there. It is located on the Kunar River's bank. God blessed this valley with lush green fields and natural beauty.