Tour overview
GB - Hunza Skardu Tour By Road
12 Days and 11 Nights
Chilas| Hunza | Skardu | Shiger
Want to spend the vacation full of fun and enjoyable moments?
Then, why not traveling with your friends and/or family by road
Road trips are perfect for calming your soul and providing everlasting charm. It enables us to slow down, appreciate the little moments in life, and find the fun in the ordinary.
Dream Vista Travels and Tourism is planning a perfect road trip towards the home of "The highest peaks of the world", the one and only Gilgit Baltistan.
Starting from Islamabad, we are going to cover various charming places of Pakistan to mark your trip as an unforgettable one. The 10 Days and 09 Nights Hunza Skardu tour is planned, keeping in mind the luxury of the people 3* hotels are booked. Furthermore, comfortable transportation is arranged for our valuable travellers.
So, Hurry up & Register!
To know more about the attractions in Hunza and Skardu trip kindly read our travel blog post on the following links.
Skardu – The Most Beautiful Valley of Pakistan 
Hunza Valley – The Scent of Beauty and Pleasure 
Attabad Lake History – A Splendid Consequence of Massive Disaster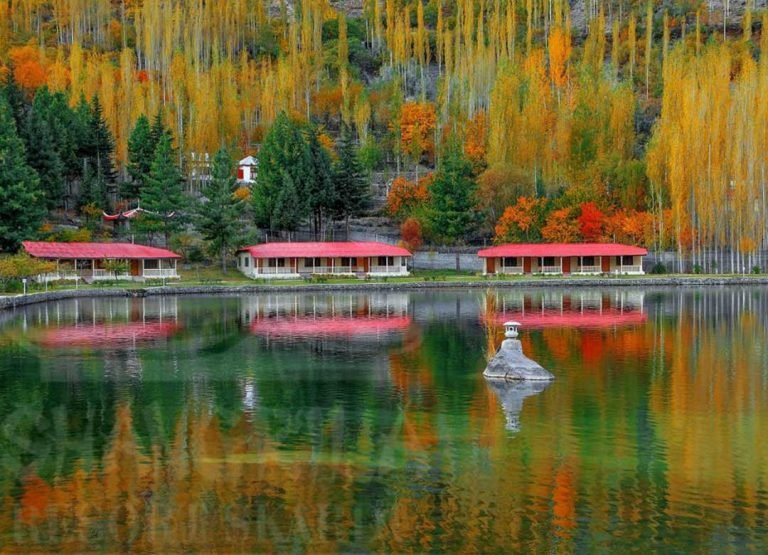 Group Tour Package
Family Tour Package
Honeymoon Package
Group Tour Package
Group Tour Package:      12 Persons (min)             
8 Days & 7 Nights:           PKR 39,000 (ISB to ISB)
12 Days & 11 Nights:        PKR 42,000 (with ISB nights)         
Additional – Return Tickets
PKR 6,000/7,000 (Economy Train)
PKR 12,000/14,000 (Luxury Bus)
Accommodation: Standard Hotel stays (3/4 Persons Sharing)
2 Nights in Islamabad
2 Nights in Chilas/Naran
2 Nights in Hunza
3 Nights in Skardu
Departure Dates
Every Thursday from KARACHI
Every Saturday from ISLAMABAD
Food:                                 Breakfast and Dinner
Transportation:                Grand Cabin with Driver (Fuel & Toll included)
Children:                              Infant (Free), Child (2 yrs to 8 yrs) 50% Off
Family Tour Package
Honeymoon Package
Gilgit Baltistan Tour from Karachi
Guests from Karachi can avail above trip from Islamabad via below options and tickets can be arranged on request.
Hunza Skardu Tourist Places
Balakot
Kiwai waterfalls
Lulusar Lake
Babusar Top
3 Mountains Junction
Rakaposhi View Point
Attabad Lake
Hussaini Bridge
Passu Cones
Sost Bazar
Khunjrab Top
Baltit Fort
Altit Fort
Duiker Village
Eagle Nest View
Satrangi Lake
Blue Lake
Bashkiri Lake
Katpana Desert
Katpanah Lake
Shigar River
Shigar Fort
Sarfranga Desert
Kharpocho Fort
Mantokha Waterfalls
Chaqchan Mosque
Khaplu Palace
Shayok River
Deosai Plains
Buddha Rock
Satpara Lake
Deosai Top
Kala Pani
Bara Pani
Sheosar Lake
Kachura (Shangrila Lake)
Included
Hotel Accommodation (3/4 Persons sharing)
Coaster/ Hiace with Driver
Food – Breakfast & Dinner (Group Tour Only)
Fuel/Toll Taxes
First Aid Box
Not Included
Insurance liability, medical aid and emergency rescue coverage
Personal Clothing
Extras at hotels like drinks, laundry, phone calls
Anything other than mentioned above in "Cost Include" area is not included in cost
Gilgit Baltistan Tour by Road Itinerary
Hunza | Skardu | Khaplu
Day 1
• Departure from Karachi Via Bus Or train (according to train Or Bus schedule)
Day 2
• Reached Islamabad
• Transfer to Hotel – (not included)
• Dinner and night stay at Islamabad
Day 3
• Start Traveling to Chilas Via Hazara Expressway
• Hazara Tunnels
• Breakfast at Mansehra
• Visit Rainbow Waterfall
• Lunch Break at Sumer Nala
• Site seeing Diamer Basha Dam
• Dinner and night stay in Chilas
Day 4
• Breakfast 8:00 am
• Traveling to Skardu valley
• Short stay at Nanga Parbat View Point and 3 Mountains Junction
• Traveling via Adventures Skardu Road
• Visit Shangrila Resort and upper Kachura Lake
• Reached Skardu, night stay in Skardu
Day 5
• Breakfast 9:00 am
• Traveling to Manthokha Water Fall
• Back to Shigar valley
• Visit Sarfranga cold desert ,
• Visit Shigar fort
• Dinner and night stay in Skardu
Day 6
• Breakfast: 8:00 am
• Visit Sadpara lake,
• Hiking to Kharpocho fort Skardu (1 hour hiking)
• Explore Nongsoq organic village
• Dinner and night stay in Skardu
Day 7
• Breakfast 8:00 pm
• Traveling towards Hunza
• Short stay at Rakaposhi view point,
• Visit Baltit Fort and Karimabad Bazar
• Dinner and night stay in Hunza
Day 8
• Breakfast 8:00
• Traveling towards China border
• visit Attabad lake,
• Hussaini bridge, Rainbow Bridge ,
• Passu cones, Passu glaciar
• Reach china border, (If Possible)
• Dinner and night stay in Hunza
Day 9
• Breakfast 8:00
• Visit Altit Fort
• Depart for Chilas
• Dinner and night stay in Chilas
Day 10
• Breakfast 8:00 am
• Traveling back to Islamabad
• sightseeing on the way
• 9:00 pm reach Islamabad
• Dinner & night stay at Islamabad
Day 11
• Breakfast in the morning at Islamabad
• Leave for Karachi via Bus Or train (according to train timing)
Day 12
• Reached Karachi safe and sound