Best One Day Hiking Trails In Pakistan
A day hiking is a great way to relax and refresh your mind and body. For many people, it is this kind of activity that arouses people's greatest interest in outdoor activities. Fortunately, in Pakistan day hiking trails are limitless.
In Pakistan,there are about 108 peaks over 7,000 feet above sea level, so we have the best hiking trails in the world, although seeing the beauty of these skyscraper peaks from a distance does not require much effort but to discover the secrets of these natural wonders yourself requires a lot of work.
We have gathered the list of absolute best trails in Pakistan
Margalla Hills Hiking Trails
The best part of Margalla Hills Track is that it is in the capital. The Margalla Hills are an extension of the Himalayas. The bottom of the hill is fertile and completely covered by green trees, herbs and stones.
There are at least 6 marked trails in Islamabad: Trail 1, Trail 2, Trail 3, Trail 4, Trail 5, and trail 6. The most famous of them are trail 3 and trail 5.
The oldest and most famous hiking trail in Islamabad. Route 3. It starts in the F-6 section of Margalla road. Due to the steep slope, this road is a bit laborious.
This track will lead to Viewpoint, which takes about 30-50 minutes. After Viewpoint, you can continue trekking for 45-60 minutes and then reach at Pir Sohawa, where you can choose from 3 restaurants: The Monal, Treehouse and Capital View.
It starts from F-5 on Margalla Road, which is easier for people to climb. Tracks 3 and 5 extend in parallel at a certain distance and are connected by track 4 at certain points.
Trail 5 starts with beautiful streams and uneven stone paths, and then leads to higher areas, where springs and waterfalls make the stones sparkle.
Set out on a trek through a pine forest on the Dunga Gali Pine Line Track. The 4 km (2.5 mi) long trail from Dunga Gali to Ayubia offers spectacular views, with the majority of the route surrounded by a dense pine forest.
You'll see a variety of birds as well as smaller animals along the way. During the day, the trail is completely safe, but you should still stick to the road and avoid exploring the forest without a guide.
This pipeline track gets its name from a water pipe that runs beneath the track and supplies water to Ayubia from the Dunga Gali water reservoir. It is a walk through exotic scenery, and the Kashmir mountains can be seen from there.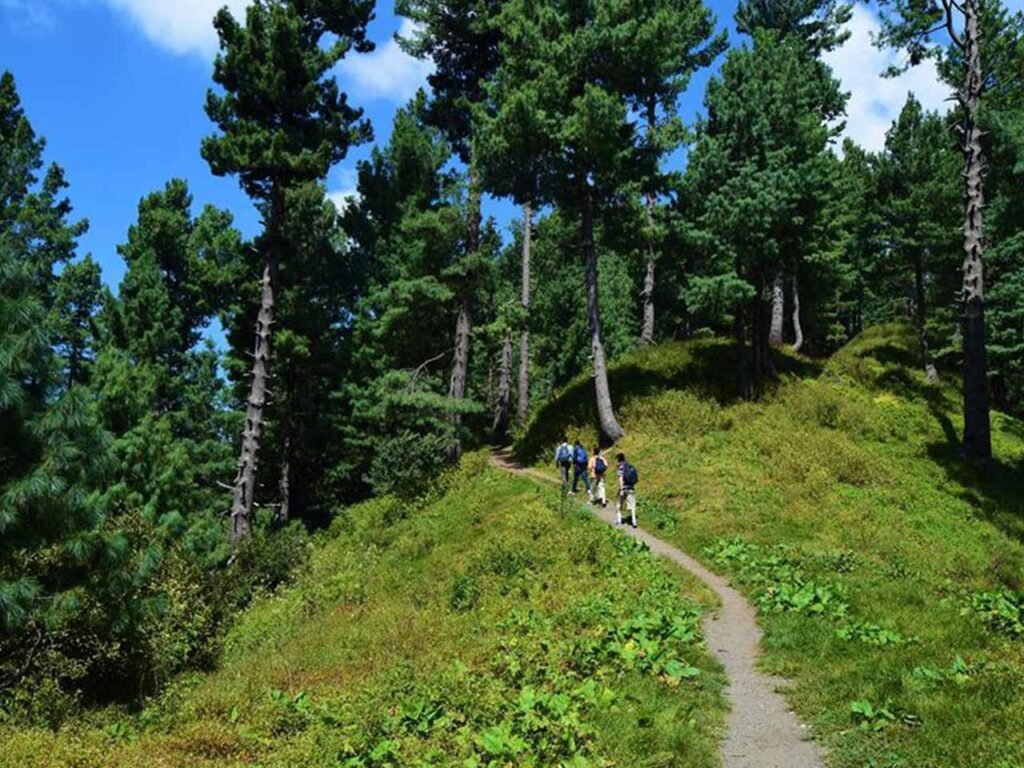 Miranjani is the highest peak in the Galyat Region, and it is located at an elevation of 2,992 metres (9,816 feet) in the Abbottabad District of Khyber Pakhtunkhwa, Pakistan. It's in the Namli Maira area of Ayubia National Park, about 80 kilometres (50 miles) north of Islamabad in the western Himalayan range.
The Miranjani trek begins in Nathia Gali, just a few minutes' drive from the Governor House. The track has a total length of about 4.69 km and a net elevation of about 600 metres.
Miranjani Trek is a feast for hikers of all levels, including beginners. The entire journey is surrounded by tall blue pines, and the sounds of crickets add to the excitement. The final stretch of the trek is a little rough and elevated, with sharp rocks, but good sports shoes with a stick may help.
The Deosai Plateau in Pakistan is the world's second highest plateau and a truly amazing place to explore. Deosai plains, also known as the Land of Giants, is an ideal location for camping. The average elevation is 4,000 metres. The area is surfaced with lush green grass, streams, mountains, and so on.
It is a nearly flat plain with a beautiful lake called Sheo Sar, which translates as "Blind Lake" because the leaving water is not visible to the naked eye. There are two streams that run parallel to each other.
 There are no permanent hotels on the Deo Sai, but tent hotels are springing up, and visitors can pitch their own tents.DeoSai has some wildlife, including brown grizzly bears, but they stay away from tourist areas and pose no threat to humans.
The trail from Burji La Pass to Deosai is long and exhausting, and it is one of the most challenging hiking trips in the northern areas. The majority of trekkers take a jeep from Skardu and then drive to the park.
The Karakorum mountains in the distance are one of the first sights that will take your breath away on the hike. The Karakorum is a stunning mountain range that stretches across India, China, Afghanistan, and Tajikistan.
You'll also get great views of Passu Village and the jagged mountains that line the Hunza River on the hike.
You'll soon arrive at the Passu Glacial Lake. After a brief moment of admiration, it's time to begin the most difficult part of the journey: ascending the moraine. You must exercise
caution here because the terrain is loose and rocky, and the paths aren't always clearly labelled.
The Dudipatsar Trek is an 18-kilometer (11-mile) hiking trail in Khyber-Lulusar-Dudipatsar Pakhtunkhwa's National Park in northern Pakistan. In the northern Kaghan Valley, the trail follows a tributary of the Kunhar River called Poorbi Narr. The Dudipat Lake serves as the tributary's headwater, and the trail has a total elevation gain of 640 metres (2,100 ft). The trail takes 5 to 8 hours to complete on average.
Dudipatsar Lake is one of the most beautiful lakes in Pakistan's Kaghan Valley. Surrounded by snow-capped peaks. The word "dudi" means "white" in the local language, and "sar" means "lake," so it was named after the crystal clear waters and gleaming snow on the surrounding peaks.
The lake's water is a beautiful greenish blue colour and extremely cold.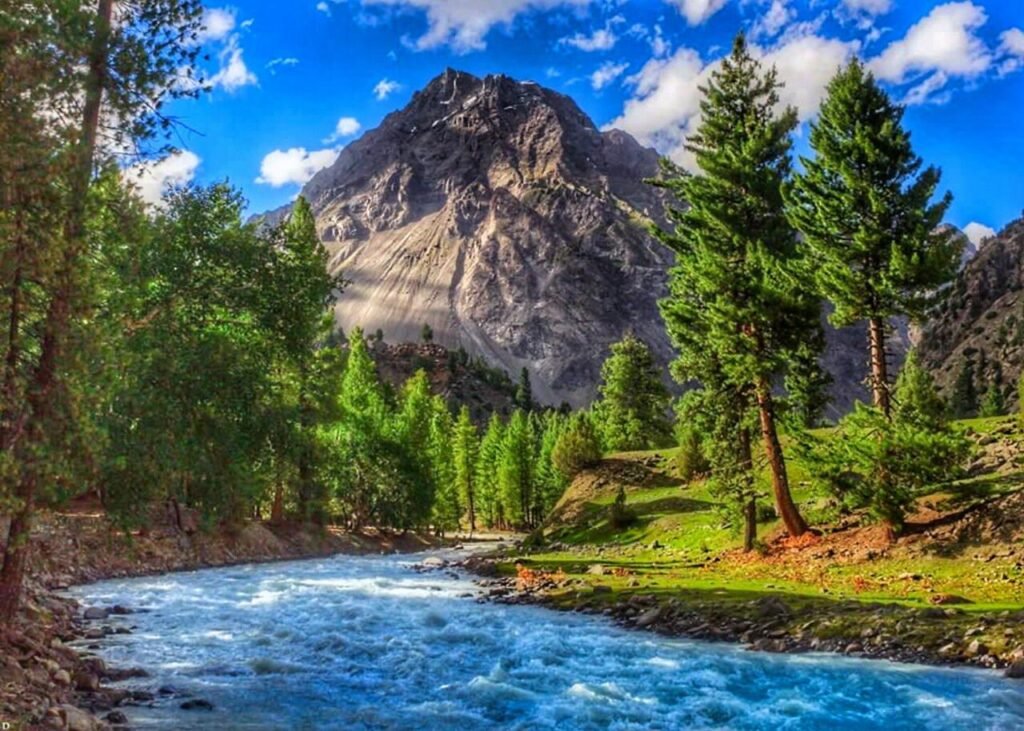 The enchanting Naltar Valley is located to the west of Rakaposhi base camp. Skiing competitions are frequently held in the winter, while in the summer, it becomes a hotspot for one of Pakistan's best hiking trails.
Naltar Valley is set in a forest, surrounded by massive mountains. Even though a jeep ride in Pakistan is enjoyable, it only serves to shorten the trekking experience, which can be extremely rewarding. You don't want to miss out on any of Naltar Valley while riding in a jeep.
Due to receiving more rainfall than other valleys, altar valley has a lush forest of cedar, pine, and juniper. It is a striking green hill station located on the north – west of Gilgit, hidden in surrounding mountains. Aside from a unique coloured lake that adds to the valley's charm, it's an ideal place for camping.
This hike takes you through flowery meadows, lakes, and lush greenery.
Fairy Meadows and Nanga Parbat Basecamp
Fairy Meadows is one of Pakistan's most popular and beautiful hiking destinations, and for good reason. With an unobstructed view of the 8,125-meter-high beast that is Nanga Parbat, one of Pakistan's highest mountains, second only to K2, it is considered one of the most accessible hikes that will allow you to witness an 8,000-meter-high mountain without doing a multi-day trek.
The best time to visit this location for an adventurous hike is during the month of August. It does not snow at this time of year. The journey to Fairy Meadows is simple.
Chitta Katha Lake is located at an elevation of 13,500 feet in Shounter Valley, Azad Kashmir (4,100 m). Chitta Katha means White Stream; it is the local name for the stream that flows down from Hari Parbat and originates in the lake known as Chitta Katha Sar, or Mount Hari Parbat's lake. This mountain is sacred to some people who associate it with Lord Shiva and regard it as the Lord's abode, referring to it as Kailash.
The lake is reached from Kel via a 20-kilometer (12-mile) jeep track and a 5-kilometer (3.1-mile) hiking trail. This lake's base camp is Kel.
Pakistan has some of the most beautiful lakes in the world, with mirrored surfaces surrounded by green meadows and snow-capped mountains. Chitta Katha is similar to those lakes. Nanga Parbat, the world's ninth highest mountain, can be seen from afar.
This is one of Pakistan's most exciting hiking trails. You'll be trekking for nearly 12 hours, making it one of Pakistan's longest hikes for true adventurers. Nanga Parbat also has camping facilities.
Minapin to Rakaposhi Basecamp Trail
Rakaposhi Peak is a mountain in the Karakoram Range that reaches a height of 7788 metres. Rakaposhi Base Camp, at 3500 metres, is situated at the base of Rakaposhi Peak, alongside the Minapin glacier. Trekkers can hike to base camp from the Nagar Valley village of Minapin.
Trekking in this area appears to be a little difficult, but not too difficult. You can begin your trek tour in the village of Minapin. The first few metres are difficult, with a steep path that gradually unwinds. After a few hours, you'll arrive at the base camp. You can spend the night here if you want to enjoy the beautiful panoramic views of green pastures set against spectacular mountains.