How to Pack Your Backpack for a Day Hike
A day hike is a great way to experience nature with family members and friends, or even by yourself. Whether you want to go deep into the mountains or stay closer to home, there are numerous places to visit; many state and national parks, as well as national forest land, have extensive trail networks.
Don't let a poorly packed backpack ruin your next hiking adventure. Learn how to pack it correctly, with efficiency, convenience, and comfort in mind.
What to Bring on a Day Hike
Your hiking checklist should include the following items:
Backpack for hiking
Weather-appropriate attire (think moisture-wicking and layers)
Boots or shoes for hiking
There is an enormous amount of food and clean water.
Tools for navigation, such as a map and compass.
First-aid supplies
Knife versus multi-tool
PACK YOUR BACKPACKING SET IN THREE PARTS
When packing your backpack for camping or hiking, it's a good idea to divide it into three sections: bottom, middle, and top.
This section is for items you won't need until you arrive at camp. Anything large, bulky, and relatively "squishable" that can fit in the bottom of your pack goes here.
Sleeping Bag
Sleeping Pad
Pillow (if you use one)
Loose Clothing
Items for camp
If you're backpacking in the rain, line your pack with a trash bag and place all of your belongings inside the liner to keep them dry. It's also a good idea to keep your sleeping bag dry by using a lightweight waterproof compression sack.
Heavyweight items should go in the middle section of your pack. By placing heavy items in the centre and as close to your back as possible, you relieve unnecessary stress on your back.
Fuel and a stove
Typically, food is the heaviest item in your pack
Bear canister
Mug for camping
Camp shoes
The top of your backpack includes the uppermost portion of the pack as well as "the brain," which is on top when you close your pack. When hiking, it's usually a zippered compartment that can be removed and used as a daypack. These items may be stored in the top of your backpack.
Rain Gear: If there's a chance of rain, keep your rain gear near the top of your backpack. You can stuff this around your bear canister if it's 100 percent sunny and you know it's not going to rain.
First-aid procedures (if it fits, or near the top of the middle section)
Snacks for the hike: As long as I'm not in bear country, I usually take my food for the day out of my bear canister and store it near the top of my pack.
Filter for water
Toiletry Set (Shovel, Toilet Paper, Hand sanitizer, and a bag to pack out used toilet paper)
Electronics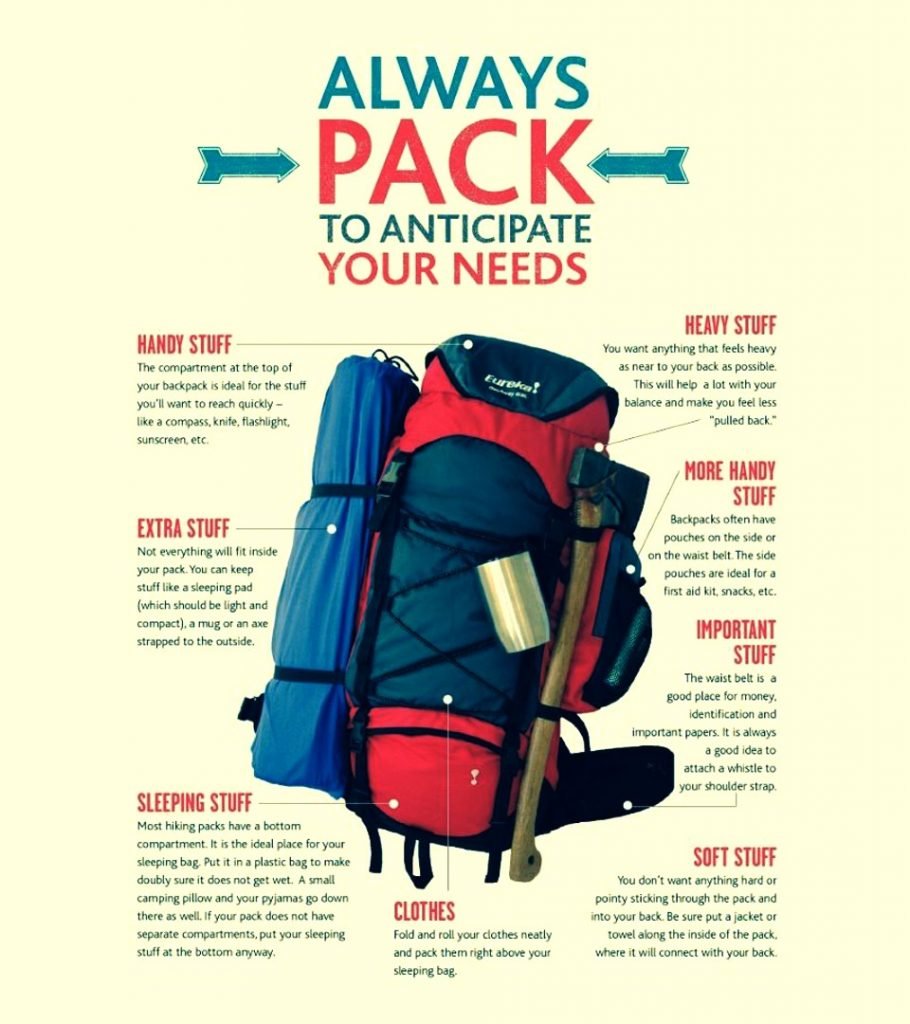 BRAIN/LID OF YOUR BACKPACK
Hip belt pockets are ideal for storing small items that you need on hand. These zippered pouches can hold chapstick, sunglasses, a microfiber towel, and other small items. You can also store the following items in your lid.
Bug spray in a travel size
Sunscreen in travel size Map or GPS Headlamp
The camera
Snack time
Spork
Multi-tool
Lighter
Compression straps can be found on the outside of your backpacking pack to help you stabilise it and adjust the weight as needed. When packing your backpack, make sure these are loose.
Once the backpack is full, buckle and tighten the compression straps. These keep things from shifting while hiking and help you feel stable while trekking over uneven terrain. Stiffen the side compression straps as well to develop an even firm grip and remove any empty space in hard-to-pack areas.
If you've ever wondered what those loops on the sides of my backpack are for, here's your answer. you're not alone. It's a common question that goes unanswered until the day you realise their purpose, which, don't worry, they definitely have. These loops are used to secure items that are long, stiff, or bulky to your pack, such as trekking poles, tent poles, collapsible seating, or even gear such as ropes, shovels, and so on.