Tour overview
Gilgit Baltistan Tour by Air
9 Days 8 Night
Hunza | Skardu | Khaplu
Do you know Gilgit Baltistan consists of magnificent glaciers? & these glaciers are responsible to feed rivers (River Indus) that account for 75% of the total stored water supply in Pakistan!
Gilgit Baltistan is known as the home of the highest peaks of the world including the K2. This beautiful landscape is famous for high mountains, glaciers, lakes, and valleys. Not just the mountains here, Gilgit Baltistan holds an interesting and unique culture, history, landmark, and background of people there.
The cold freshwater of lakes, the appealing sound, and feel of waterfalls, the barren land and large dunes of deserts, and the ancient architectural forts are waiting to make this tour an exciting and memorable one.
On this trip our lovely customers are going to visit the following attractions; Katpana Desert, Katpanah Lake, Shigar River, Shigar Fort,  Sarfranga Desert, Kharpocho Fort, Mantokha Waterfalls, Chaqchan Mosque, Khaplu Palace, Shayok River, Deosai Plains, Buddha Rock, Satpara Lake, Deosai Top, Kala Pani, Bara Pani, Sheosar Lake, Kachura (Shangrila Lake), 3 Mountains Junction, Rakaposhi View Point, Attabad Lake, Hussaini Suspension Bridge, Passu Cones, Sost Bazar, Khunjrab Top (China Border), Baltit Fort, Altit Fort, Duiker Village, Eagle Nest View Point, Satrangi Lake, Blue Lake, Bashkiri Lake
Dream Vista is providing Gilgit Baltistan Tour of 9 days and 8 nights trip to revitalize all tired souls. From the comfortable mode of traveling by air to the luxurious hotel to stay in, everything in this trip is so perfect and well-executed.
So, don't waste the precious time, register as soon as possible to enjoy the serenity and tranquillity of spring at the most beautiful destinations of Pakistan.
To know more about the attractions in this trip kindly read our travel blog post on the following links.
Skardu – The Most Beautiful Valley of Pakistan 
Hunza Valley – The Scent of Beauty and Pleasure 
Attabad Lake History – A Splendid Consequence of Massive Disaster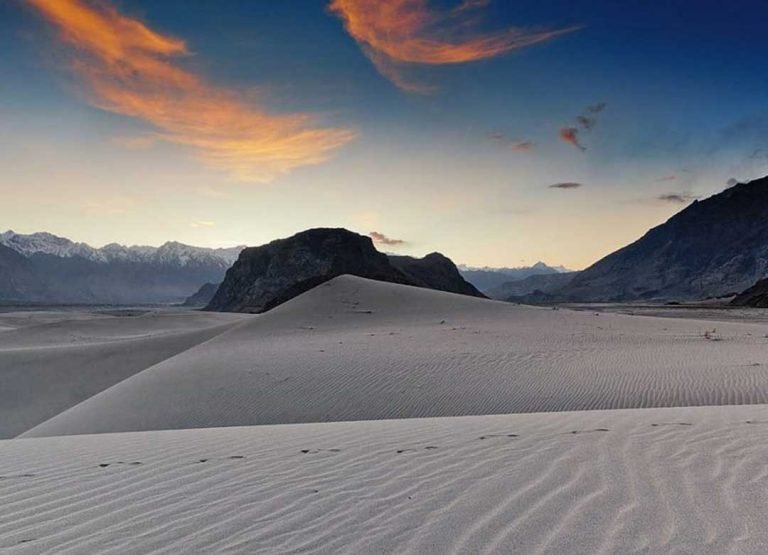 Group Tour Package
Family Tour Package
Honeymoon Package
Group Tour Package
Group Tour Package:      PKR 72,500 per Person
No of Persons:                  12 (Min)
Duration:                             9 Days 8 Nights
Accommodation:             3* Luxury Hotel stay (2 persons sharing)
                                                4 Nights in Skardu
                                                4 Nights in Hunza
Food:                                    Breakfast and Dinner
Transportation:                 2 Prado for 9 Days with Driver (Fuel & Toll included)
Air Tickets:                          Not Included (ISB-KDU-GIL-ISB)
Jeep Safari:                         Included – Jeeps ride to Deosai and Naltar
Valid Till:                            28 Feb 2023
Children:                              Infant (Free), Child (2 yrs to 8 yrs) 50% Off
Family Tour Package
Honeymoon Package
Gilgit Baltistan Tour from Karachi
Guests from Karachi can avail above trip from
(Option 1) Direct Flight to Skardu
(Option 2) Islamabad via below options and tickets can be arranged on request.
Gilgit Baltistan Tourist Places
Katpana Desert
Katpanah Lake
Shigar River
Shigar Fort    
Sarfranga Desert
Kharpocho Fort
Mantokha Waterfalls
Chaqchan Mosque
Khaplu Palace
Shayok River
Deosai Plains
Buddha Rock
Satpara Lake
Deosai Top
Kala Pani
Bara Pani
Sheosar Lake
Shangrila Lake
3 Mountains Junction
Rakaposhi View 
Attabad Lake
Hussaini Suspension
Passu Cones
Sost Bazar
Khunjrab Top
Baltit Fort
Altit Fort
Duiker Village
Eagle Nest View Point
Satrangi Lake
Blue Lake
Bashkiri Lake
Included
Hotel Accommodation (2 Persons sharing)
Transport – Prado for 9 Days
Food – Breakfast
Fuel and Toll Taxes
Basic First Aid Kit
Not Included
Flight Tickets (ISB-KDU-GIL-ISB)
Personal trekking equipment
Personal Clothing
Extras at hotels like hot / soft drinks, laundry, phone calls
Insurance liability, medical aid and helicopter rescue coverage
Gilgit Baltistan Tour by Air Itinerary
Hunza | Skardu | Khaplu
Day 1
(7 am) Trip Starts from Karachi/Islamabad towards Skardu (2/1 hrs flight)
- Transfer to hotel, refresh and
- Visit Katpana Desert, Katpanah Lake, Shigar River, Shigar Fort and Sarfranga Desert
- Dinner and Night Stay in Skardu
Day 2
(7 am) Breakfast and move towards Mantokha Waterfalls (1 hr 15 mins – 53 KM)
- Depart to Khaplu (2 hrs 6 min – 78KM)
- Visit Chaqchan Mosque, Khaplu Palace, Shayok River
- Dinner and Night Stay in Skardu
Day 3
(7 am) Breakfast and move towards Deosai Plains (2 hrs – 73 KM)
- Short stay at Buddha Rock, Visit Satpara Lake, Deosai Top, Kala Pani, Bara Pani, Sheosar Lake
- Dinner and Night Stay in Skardu
Day 4
(7 am) Breakfast and explore Skardu City
- Visit Kharpocho Fort
- Short Stay at Upper Kachura and then Lower Kachura Lake (Shangrila Lake)
- Dinner and Night Stay in Skardu
Day 5
(7 am) Breakfast and Depart to Hunza (5 hrs 30 mins - 271 KM)
- Short Stay at Rakaposhi view point
- Dinner and Night Stay at Attabad Lake
Day 6
Day 6
(7 am) Breakfast and move towards Khunrab Pass (China Border) (4 hrs – 198 KM)
- Short Stay at Attabad Lake, Gulmit, Hussaini Suspension Bridge, Passu Cones, Sost Bazar, Khunjrab Top (China Border)
- Dinner and Night Stay at Attabad Lake
Day 7
(7 am) Breakfast and Explore Karimabad – Hunza Nagar
- Visit Baltit Fort, Altit Fort, Duiker Village, Eagle Nest View Point
- Dinner and Night Stay in Karimabad
Day 8
(7 am) Breakfast and move towards Naltar Valley (2 hr 42 mins – 103 KM)
- Explore the beautiful Naltar Lakes (Satrangi Lake, Blue Lake, Bashkiri Lake)
- Dinner and Night Stay in Gilgit
Day 9
(7 am) Breakfast and move to Gilgit Airport for Islamabad (1hr flight)
(2 pm) Reached Islamabad airport
(7 pm) Take Karachi bound flight
(9 pm) Reached Karachi
------THE END ------