ABBOTTABAD - The City of Pines
Abbottabad is a mountainous and green city in the Hazara region and is the capital of Abbottabad District, Khyber Pakhtunkhwa province of Pakistan.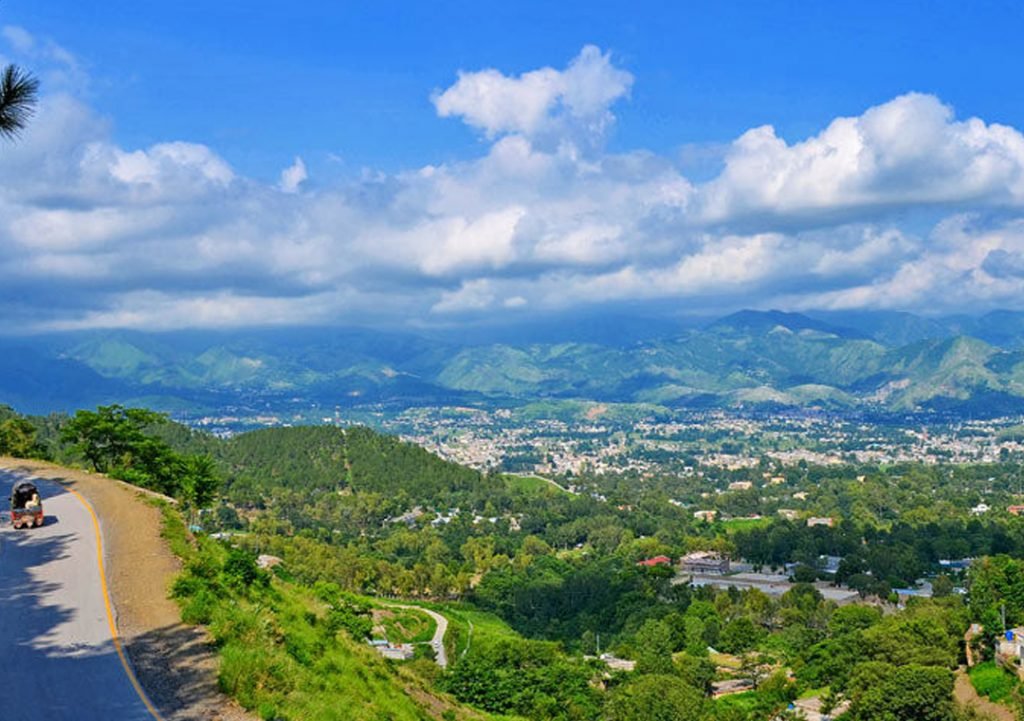 Abbottabad is located in the Orash valley, halfway between Mount Sarban and Mount Shimla.
It is located around 120 kilometres (75 miles) north of Islamabad-Rawalpindi and 150 kilometres (93 miles) east of Peshawar.
To connect Abbottabad with Islamabad the National Highway Authority (NHA) has opened the road.
It is famous for quality education having famous education institutes. Pakistan's largest military academy called Kakul is also here in Abbottabad.
It is a quiet neighbourhood place with a high literacy rate and low crime rates. Hindko is the predominant language here.
Thousands of people come to Abbottabad from all across Pakistan to enjoy the lovely weather. It is one of the most beautiful cities in the world, and it acts as a gateway to Naran/Kaghan and Pakistan's natural beauty.
The weather of Abbottabad is pleasant all over the year as in the range between 25 – -10°C. 
Snowfall is common in Abbottabad in December and January, while significant rainfall is common during the monsoon season, which runs from July to September.
Abbottabad might be an excellent holiday location for families during the winter months. It is also famous for summer resorts.
Famous Tourist Attractions in Abbottabbad
Nathia Gali, Ayubia National Park, Miranjani Top, Mashkpuri top, Thandiani top, ilyasi Masjid, Harnoi river, Shajikot waterfall, Abbottabad church, Shimla Hill Park, Harndi Park are the main tourist attractions in Abbottabad. 
If you are planning to visit Abbottabad then you must visit these places as these places will make your trip more memorable.
At the centre of the Galiyat range in Khyber Pakhtunkhwa Pakistan, a breath-taking famous hill station named Nathia Gali is situated. It is 86 km away from Islamabad.
It is known as heaven on earth. People attract to Nathia Gali due to its pleasant weather, and natural beautiful scenes.
As to compare to its neighbouring areas Nathia Gali is much cooler due to its high altitude.
In Abbottabad District, Havelian Tehsil, about 47 kilometres a wonderful waterfall named Sajikot Waterfall is located.
The beautiful green grazing meadows and pure water streams that surround the spectacular waterfall add to its attractiveness.
It is popular due to its peaceful atmosphere and is considered one of the most beautiful waterfalls in Pakistan.
In the Galiyat region the Miranjani top is the highest peak and is 9816 ft high and 4.69 km long.
To Reach the top you need at least 3-4 hours to climb it. 
There are two tracks to climb it. One is from Nathiagali and the other track is from Dagri Bangla Rest house.
In the Galiyat region the Mushkpori top is the second highest mountain range and is of 9200ft height.
It is located above the DungaGali and you need at least 3 hours to reach at the top of the mountain to have a breath-taking view.
From the top of the mountain, you can see Murree, Bagh District of Azad Kashmir, Circle Bakote and Jhelum River.
You can reach at the top either by trekking from Nathiagali or from track of Dungagali.
In Abbottabad, the oldest and the largest mosque present is Ilyasi Mosque.
Set against the beautiful green valley of Abbottabad, the creamy-white edifice of the Ilyasi Mosque seems numinous.
The magnificent architecture, towering structure, sense of calm and tranquillity, and gorgeous white façade of the Ilyasi mosque are all well-known. There is also a historic natural spring that is said to have therapeutic properties.
The beautiful, cold, and peaceful place Thandiani is located 31 km from Abbottabad and is about 2700 meters above sea level.
The temperature of Thandiani remains low all over the year.
This place is called Thandiani because of its cold weather. 
Tourists usually visit this place to relax.
It is a well-known river, located about 20 minutes away from Abbottabad.
The well-forested surrounding hills and pure water stream coming down from the upper slopes make Harnoi Valley noteworthy.
It's a revitalising environment that helps you feel better.
This stream, also known as the Dor River, is a favourite swimming and bathing site for children from Abbottabad and the surrounding areas.